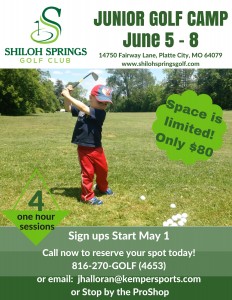 2017 Summer Junior Golf Programs
Thank you to all the parents who brought our their kiddos for a fun and successful week of golf!! Stay tuned for a deal on a mini Back to School camp in August!!
June 5th – 8th, 2017, Shiloh Springs Junior Golf Camp
The junior golf program is committed to the development of youth (ages 6 – 12) in the game of golf. The program is designed to allow the junior golfer the opportunity to learn, practice, play and enjoy the game of golf. We believe that golf is a game of a lifetime. Our goals are to introduce the game to novices, encourage the development of our more experienced players and provide wholesome enjoyable outings for all participating members.
Cost: $80.00 per junior. 4 One hour sessions
---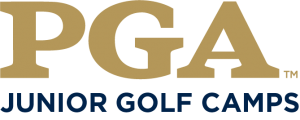 Give your child a summer to remember by attending a PGA Junior Golf Camp at Shiloh Springs Golf Club.
Whether they want to pick up a new skill or compete in tournament play, PGA Junior Golf Camps will introduce and teach a game that they will enjoy for a lifetime.The PGA of America's signature junior golf camps have been created to both introduce new players to the gameand help experienced golfers get better.
Learn from the best. Every Camp is taught by a certified PGA of America Professional who knows
how to balance both fun and skill development. They understand the most effective ways to approach each lesson helping to ensure each student gets the most out of every training session.

Camps that work for you. Our camps welcome boys and girls of all athletic abilities, golf experience, and competitive desire. Choose from half-day and full-day Camps featuring small group instruction, course play (limited to full day camps) and a 6:1 teacherto student ratio.

Fun, safe and educational. Full of action, discipline, and integrity, each Camp has been designed tohelp your child grow both on and off the golf course. While PGA Junior Golf Camps help develop yourchild's game, we believe our programs also help to build character.

From tee to green. Campers learn every aspect of the game, including instruction on the full swing,short game, rules of the game and golf etiquette.

A lifetime of learning. Our curriculum, developed in partnership with the PGA of America, encourages skill progression by supplementing instruction with games and on-course playing opportunities.
Register for a PGA Junior Golf Camp, today!
Click on the link below or call (888) PGA-PLAY.