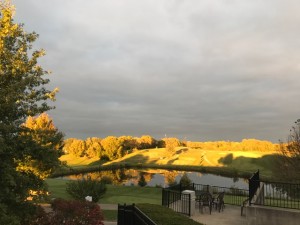 Shiloh Springs Golf Club is a one of a kind golf course designed and built by architect and builder Gary Martin. Mr. Martin's background was in building design and construction but always had the dream of designing his own golf course and seeing that project through the construction phase. In partnership with Platte County he set about to do just that in the spring of 1993. Opened for play in June of 1995, Shiloh at that time was the closest golf course to the KCI Airport. For the first 5 years of the course Mr. Martin leased the facility from Platte County and ran the day to day operations. Starting in 2000 Platte County hired Oak Golf, a management company out of Lawrence Kansas, to manage the facility. That agreement was for three years and ended at the end of 2002.
Starting in 2003 and continuing through 2005 Shiloh Springs was managed by different individuals hired by Platte County.
In October of 2005 Platte County made some major decisions that will influence the future of Shiloh Springs Golf Club in a very positive way. They purchased the land that the golf course sits on from Martin Investments, making Platte County the sole owner of the facility. They put the operation of the golf course under the Platte County Parks & Recreation Department. These two things will have a dramatic effect on the future of Shiloh Springs Golf Club.
We invite you to come be a part of the future here at Shiloh Springs Golf Club.